Picture yourself in the Southern most Island of New Zealand wandering under a stadium of stars to try your luck at native Kiwi spotting. Or stick to the mainland and imagine walking through the most important forest in the world. Kiwi Wilderness Walks brings you the opportunity to explore two very remote and unspoilt pieces of Southland, New Zealand – Tuatapere Hump Ridge Track and Stewart Island.
At Kiwi Wilderness Walks our aim is to help you participate in the outdoors in classic Kiwi fashion. Our accommodation on the trail includes new country huts, an historic homestead and a south island. Our experienced local guides will help you have a safe, enjoyable trip while providing an entertaining and valuable insight in to the history of Maori, early settlers and local ecology.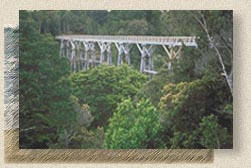 Surreal sandstone towers peering down on 13 marine coastal terraces in the Waitutu Forest and across Lake Poteriteri to rugged mountain ranges in Fiordland. The Hump Ridge, situated in the South West corner of New Zealand, dominates the landscape from Lake Hauroko to Te Wae Wae Bay. Coastal, bush and sub alpine scenery wrapped up in one.
Stewart Island offers the best chance most people will ever have to see New Zealand's national bird, the Kiwi, in its natural environment. Rest assured not many New Zealanders can make that claim. Many centuries ago Maori came by canoe to the island to harvest shellfish and mutton birds, traditions still carried out today by local iwi. They named the island Rakiura – 'Land of the Glowing Skies' as it is renowned for its lingering sunsets of summer and the aurora of winter.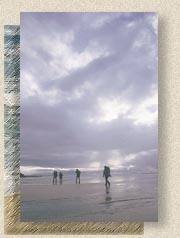 At Kiwi Wilderness Walks our aim is to help you participate in the great outdoors in classic Kiwi fashion.
The first night of the Stewart Island walk is at The Riverton Rock Guesthouse. At Mason Bay we generally stay in the Island Hill Homestead. A coal range provides warmth, helps with the cooking and heats the water for a candle lit bath. In Halfmoon Bay we stay in a "crib" or private holiday home.
The first night of the Hump Ridge Track is at Tuatapere in the Waiau Hotel. On trail we stay in two new huts with 4 bunks to a room, flush toilets, and hot water in the kitchen.