From Bluecliffs Beach climb on to the Hump Ridge high above the Waitutu Forest. Complete the loop along an old logging tramway and across giant wooden viaducts. A challenging walk requiring a high level of fitness.
Meet your fellow walkers and guide at The Waiau Hotel and prepare for the expedition.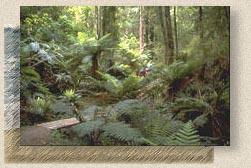 Lush lowland native bush.
An early drive to the start of the track. Follow the coast before heading inland at Flat Creek.
Climbing steadily up the Hump Ridge, bush gives way to sub alpine tussock grasses and finally the Okaka Hut (950m ).
DAY 3: Okaka Hut, Percy Burn Viaduct, Port Craig
Walk 7- 8 hours / 18km
Traversing along the Hump Ridge past sandstone tors and mountain tarns. Then descending through Mountain Beech to the South Coast track near the Edwin Burn viaduct. An old logging tramway leads across the massive Percy Burn Viaduct, the highest remaining wooden viaduct in the world to Port Craig Village.
This is the longest day and requires a good level of fitness.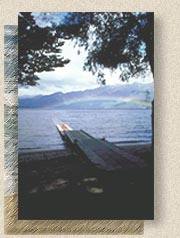 DAY 4: Port Craig, Track end, Tuatapere
Walk 5 hours / 13km.
Explore this pioneering village before walking coastal tracks and the beach back to the end of the track. A chance to see the rare Hectors dolphin along the way.
Drive back to Tuatapere and the completion of our journey.